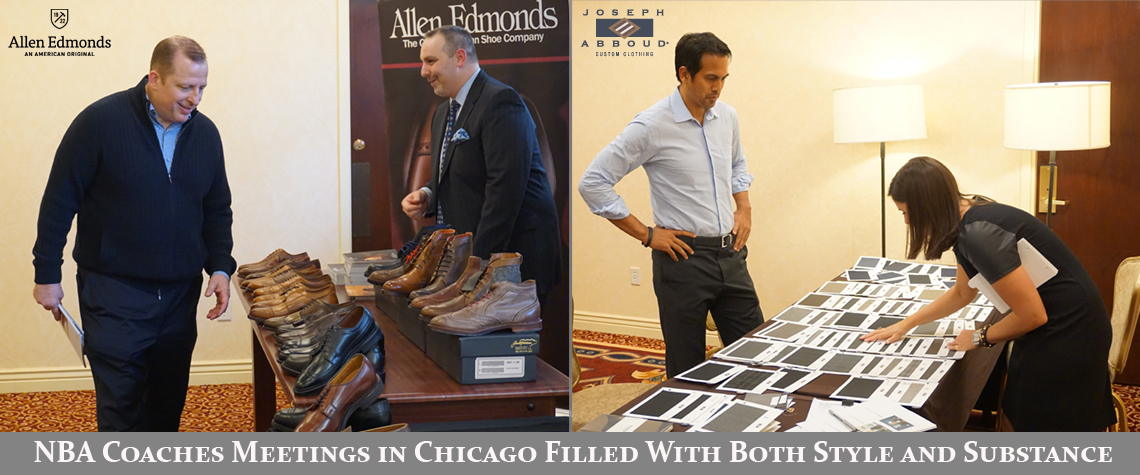 There are few times during the calendar year where the whole NBA Coaching community can get together and enjoy each other's company away from pressures of the NBA season.  The annual NBA Coaches Meetings is one of them.
This past weekend in Chicago prior to the annual GMs and Coaches Clinic, NBA Head Coaches gathered for meetings, league discussions, and a chance to sit down with current NBA Coaches Association marketing partners.  Not only were Coaches sharing summer stories, some fresh off a gold medal performance, but they also found time to discuss the season ahead.  As they set to embark on training camps next week, these annual meetings in Chicago serve as almost a "Back to School" type setting and the atmosphere is light for the most part. "It's a lot of fun getting together with all of the guys in a more casual environment," said Indiana Pacers Head Coach Frank Vogel.
Not only were Coaches prepping with X and O talk, but the topic of style and fashion was front and center.  NBA Coaches Association sponsors Joseph Abboud and Allen Edmonds were on-site fitting their latest offerings and showcasing the new product lines for 2014-2015.  Over the years, some Coaches have chosen to make a fashion statement on the sidelines, but for the 2014-2015 Head Coaches, it's simply a matter of looking good and feeling confident.   "When you are wearing Joseph Abboud or Allen Edmonds, you can choose just about anything and know you will look good." said Rick Carlisle, President of the NBA Coaches Association.
When traveling on the road and playing multiple games per week, dressing for success and keeping things fresh can be a tough challenge.  "Leadership has a look and our partners understand that.  When going on the road, worrying about your clothes is not your top priority so it's great to take the guesswork out of that process now.   Our partners really make it simple and keep us looking sharp." said, Toronto Raptors Head Coach Dwane Casey.
Throughout the season, nbacoaches.com will feature Coaches with Style on the history of sideline attire courtesy of Joseph Abboud and Allen Edmonds.
[dopwgg id="37″]